Let Your Beauty Bloom!! Take $50-$100 Off Kybella Treatments!!!
Valid Through 3/29/19 Spring is here beauties! Tired of that double chin or those annoying jowls?? Then get rid of them now with Kybella! Kybella is an injectable treatment that permanently destroys fat cells under the chin and in the jowl area (strictly off label use) with no surgery required. This treatment is tailored to your unique facial profile. Multiple treatments may be recommended for desired outcome. Now on special for the month of March, take $50 off your Kybella jowl treatment or $100 off your Kybella chin treatment (normally $600-$1,200 per treatment). Feel confident and beautiful, call us at 505-897-4433 to book your appointment!!
Say Goodbye Winter Skin, Hello Fresh Spring Face With Our Stem Cell Rejuvenating Facial For Only $99 ($50 Savings)!!!
Valid Through 3/29/19 Utilizing Image Skincare's unmatched maximum concentration of state-of-the-art ingredients, this facial will rejuvenate, regenerate and revitalize dull, aging skin! The Stem Cell Rejuvenating Facial will provide deep hydration and brightening. Stem cells support natural defense mechanisms and promote cell health. This unique stem cell technology aids in prevention of cell damage and reduces wrinkles due to facial expressions. Call us today at 505-897-4433 to book this amazing facial for only $99 (normally $150)!!
Are You Taking Action Against Aging Eyes?



Valid Through 3/29/19
The skin around our eyes is thinner and more delicate than the rest of the face. It loses moisture 50% faster than other facial areas. Using an eye cream or gel can provide much needed hydration, vitamins, antioxidants and stem cells that prevent rapid aging. Whether you're concerned with dark circles, fine lines, dehydration or all three. We can help you with your anti-aging eye and skincare needs! Call us at 505-897-4433 to book your free consultation or if you are an existing patient, ask us which eye product would be best for you! Think pretty, think Belleza Med Spa!!!
*We offer a service discount for military, police, firefighters, and students
Beautiful Fine Jewelry At Belleza Med Spa!!!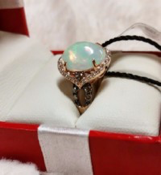 LeVian Opal Ring- White and Chocolate Diamonds 14k Gold-Size 7
Sale Price $2,000/ No Tax
Original Price $3,638
Only 1 Left!!
Amethyst Ring- 2 Small Diamonds 14k Gold-Size 7
Sale Price $300/ No Tax
Original Price $642
What A Beautiful Ring!!!
Belleza Med Spa
4421 Irving Blvd NW Ste C
Alb, NM 87114
505-897-4433
www.bellezamedspa.com
M-F
9 AM- 5 PM