Hello Fall Savings! Take $50 Off Micro-Needling Face/Neck Treatments Only!!!
Valid Through 11/27/19
Look rejuvenated and youthful with Micro-Needling treatments! Micro-Needling is also known as Collagen Induction Therapy. It utilizes tiny needles that create micro-channels in the skin to allow a deeper infusion of active ingredients which stimulates the regrowth of collagen with little down time. Texture and elasticity can continue to enhance for months after treatment as the skin continues to repair itself. The neck is often one of the first telltale signs of aging. With this amazing fall special you won't have any reason to neglect your neck!
Micro-Needling can treat:
Scar Removal (must be at least 6 months old.)
Fine lines and wrinkles
Loose Skin
Enlarged Pores
Pigmentation
Dehydrated Skin
For the month of November, take $50 off face/neck micro-needling treatments only (normally $250 per treatment)!! Limit 4 treatments per patient. Don't wait, start treatment now to look your best for all your holiday events! Call us at 505-897-4433 to book your appointment now!!!
Slip Into Fall Bliss With Our Apple Cider Facial-$75
Valid Through 11/27/19
Satisfy your skin and your senses with this amazing blend of crisp fall apples and a medley of warming spices! Apples are high in vitamin C and deliver potent antioxidants while gently exfoliating the dead surface layers of your skin for optimal anti-aging benefits. Nutmeg will soothe inflammation while the cinnamon will create a warming to increase circulation in the skin. This facial will hydrate, firm, improve skin tone and suppleness just in time for the holidays! Don't wait. Limited spaces available! Call us at 505-897-4433 to schedule your appointment now!
Beautiful Fine Jewelry At Belleza Med Spa!!!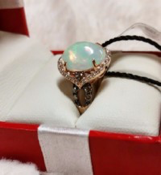 LeVian Opal Ring- White and Chocolate Diamonds 14k Gold-Size 7
Sale Price $2,000/ No Tax
Original Price $3,638
Only 1 Left!!
Amethyst Ring- 2 Small Diamonds 14k Gold-Size 7
Sale Price $300/ No Tax
Original Price $642
What A Beautiful Ring!!!
Belleza Med Spa
4421 Irving Blvd NW Ste C
Alb, NM 87114
505-897-4433
www.bellezamedspa.com
M-F
9 AM- 5 PM
*We offer a service discount for military, police, firefighters, and students