Hello Spring Savings! Take $25 Off Clogged Pore, Sebaceous Hyperplasia and Skin Tag Removal!!
Valid Through 3/31/20
Do you have stubborn clogged pores that you want to get rid of? Do you have flesh-colored bumps on your face (they could be sebaceous hyperplasia-SH) that don't go away no matter what you do? SH is a benign enlargement from overactive oil glands. How about skin tags that get caught on your clothes or jewelry. Get rid of your clogged pores, SH and your skin tags before your spring events!! Now on special for $125 per session (normally $150). Look and feel great for spring!! Call now at 505-897-4433 to get clearer skin and reserve your appointment time! Think pretty, think Belleza Med Spa!!!
Let Your Beauty Bloom With Fibroblasting!! Take $75 Off Plasma Pen Cheek Treatment!!
Valid Through 3/31/20
As we age, we lose volume in our cheeks causing bothersome crepey skin and wrinkles. The Plasma Pen treatment, also known as Fibroblasting, can help restore youthfulness to your appearance without surgery or anesthesia! This treatment area works best on mature skin types. You can expect little to moderate downtime between 7-14 days. Results can last up to 3 years! Don't wait. Look great for all of the spring and summer holidays. Call us at 505-897-4433 to book your consultation and take advantage of this spring special!
Beautiful Fine Jewelry At Belleza Med Spa!!!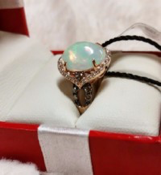 LeVian Opal Ring- White and Chocolate Diamonds 14k Gold-Size 7
Sale Price $2,000/ No Tax
Original Price $3,638
Only 1 Left!!
Amethyst Ring- 2 Small Diamonds 14k Gold-Size 7
Sale Price $300/ No Tax
Original Price $642
What A Beautiful Ring!!!
Belleza Med Spa
4421 Irving Blvd NW Ste C
Alb, NM 87114
505-897-4433
www.bellezamedspa.com
M-F
9 AM- 5 PM
*We offer a service discount for military, police, firefighters, and students